Find Used Cars


New Arrivals
>> More

New Arrivals for Certified Vehicles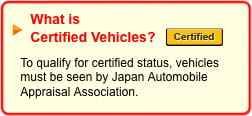 >> More

Buying Japanese Used Cars from Goo-Net Exchange Our mission is to make sure your purchase of Japanese used vehicles from Japan will be safe and secure. All Japan Used cars in stock are in"ready to GO" condition. Here for more information about buying Japanese imports from Goo-net Exchange.
Goo-net Exchange Information
Thank you for visiting Goo-net Exchange.


3/14 - We appreciate your caring and thoughtful phone calls and emails. As for KINGS AUTO CO., LTD., we are operating as usual.

1/20 - Now You can run a keyword search by model number!