STEP
01
Find Cars
Goo-Net-Exchange is one of the largest information-share platforms in Japan. Most of the dealers are able to sell to overseas customers but some of them sell at only domestic market. We will check each car as per your inquiry and send you quotation.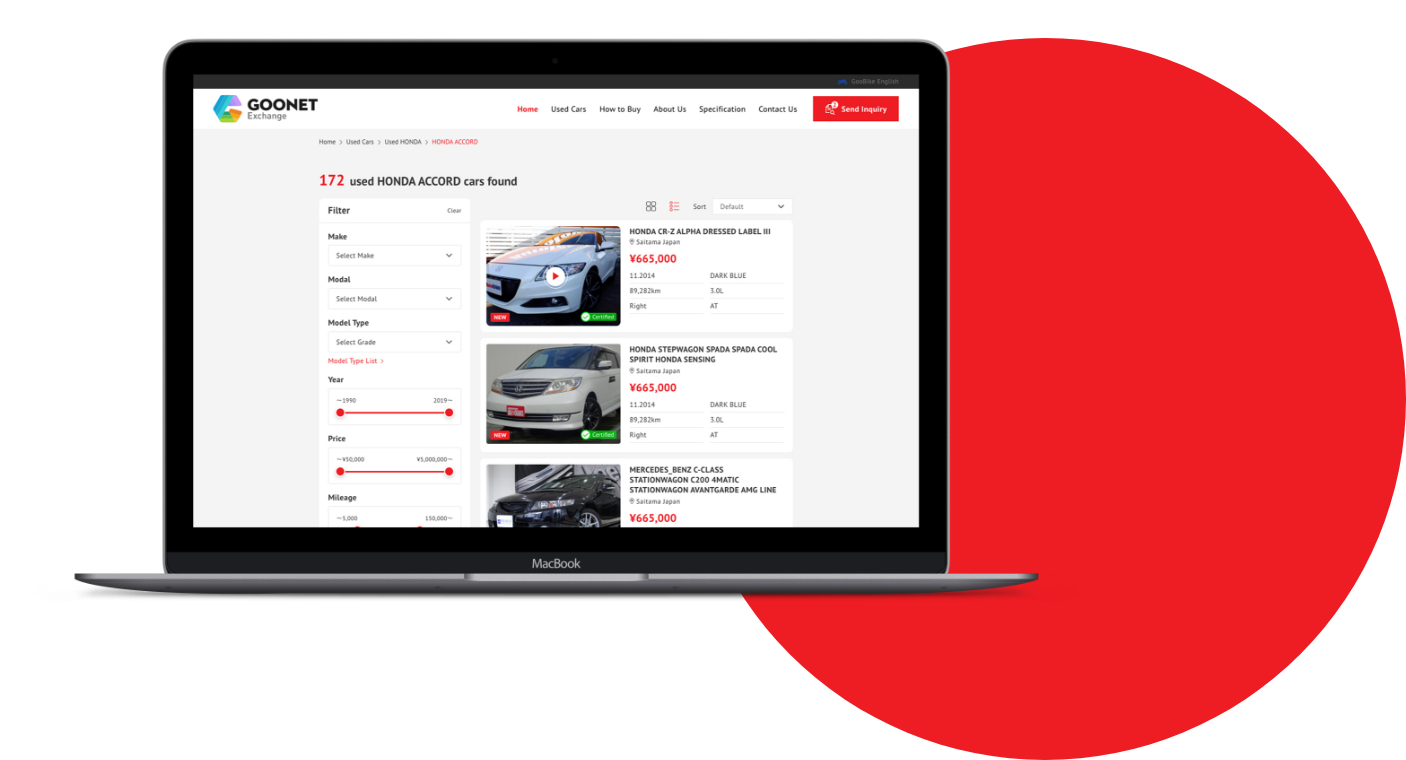 STEP
02
Send inquiry
Find the one you like and "Send inquiry". Please enter your information and click confirmation button. You will receive an Auto-Reply email after you sent the inquiry, if you entered the correct email address. (Avoid to use "gmx" domain please.) We will get back to you with the total cost including FOB charges and Ocean freight.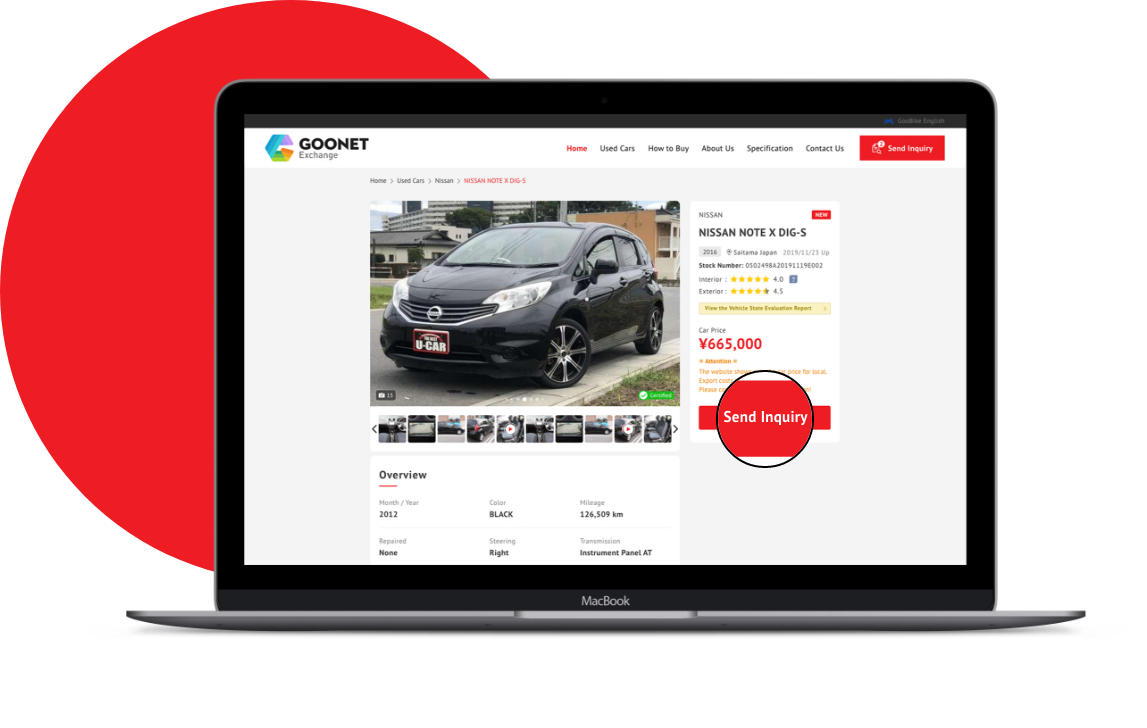 STEP
03
Agreement & Payment
Once you agree with the price and conditions, we will issue a Proforma Invoice according to the consignee name, address and phone number you provided. At this moment, the car is still open for sell to anyone.
We only accept bank transfer T/T (Telegraphic Transfer)
Bank Information
Bank Name

MUFG Bank, LTD.
Branch Name

Hamamatsu Branch
Bank Address

311-14, Naka-ku, Tenma-cho, Hamamatsu
Shizuoka, 430-0935 Japan
Account Name

GOONET EXCHANGE CO., LTD.
Account Number

502XXXX (to be shown on the proforma invoice)
Swift Code

BOTKJPJT
*This is the only Bank account of our company in Japan for payment. Please do not send to any other bank account.*
When your payment reaches to our account, we will purchase the car from the dealer. Detail Terms Conditions please feel free to contact us.
STEP
04
Shipment
In Japan
The cars listed on Goo-Net-Exchange are all located at each dealership. It usually takes usually 2 to 4 weeks to export from Japan, depends on its destination from the nearest shipping port, the frequency of the vessel (some countries only have 1 vessel per month) and the lead time of required shipping documents. Shipping schedule shall be provided as soon as the car is purchased. Shipping documents will be sent within 1 week after shipped by courier. We will need your final confirmation on the accuracy of the documents before send those out.
In your country
Buyers are responsible for the customs clearance in their own country. (Except Australia and New Zealand where a package is available by shipping company) We would recommend to take advice from a local clearing agent prior to the payment so you will have a clear idea how much more you will need to pay for the clearance charges and customs duties. Have a nice and safe drive!
FAQ
Q.1

What is FOB?

The purchase price of the vehicle, called the FOB
that the price of the combined freight costs up to the port exports of Japan.
Q.2

This is my first time buying a car online, how do I pay for it?

You will pay 100% upfront by bank transfer T/T (Telegraphic Transfer).
No credit card, No Paypal are accepted
Q.3

Can you refund my payment?

Yes, we will refund 100% payment.
Q.4

How long does it take me to receive my car?

Around 2 weeks to 2 months depending on your country.
Q.5

What are your office hours?

We are open Monday through Saturday, 9:00 a.m.–6:00 p.m. (Japan time). p.m.
Q.6

Can you show me the condition of the vehicle?

Many cars have third-party evaluation sheet attached to it. We also ask the dealers for the further information you need to know with your instruction.
Q.7

How can I know I can trust your company?

We are a registered exporter in JUMVEA (JMVA-419), exporting many cars all over the world. And also,our group company (PROTO Corporation) is in the first section in Tokyo and Nagoya stock exchange market.
Q.8

Can you buy a car? Or do some trade?

We do only for sale.
Q.9

Do you have storage service?

Yes, we can store your car for 1 year/Max at a reasonable storage fee.
Why Choose Goonet
Exchange?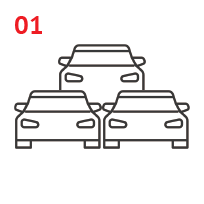 Over 380,000 Used Cars
for sale
We have a lot of
Certified Vehicles
PROTO CORPORATION
is Listed on the First Section
of the Tokyo Stock Exchange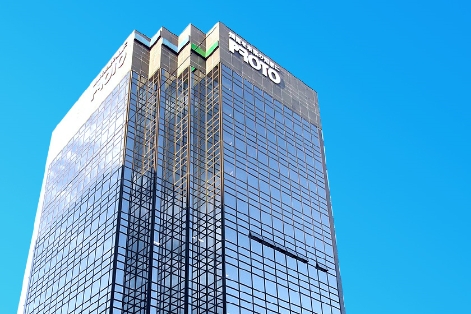 PROTO CORPORATION
is a company that manages Japan's largest used car information site "Goonet".
Since we are cooperating with second-hand car dealers all over Japan, we can offer the perfect car for you from our abundant inventory.
In addition, the PROTO Group is developing a service called "Goo KANTEI", in which an appraiser of the Japan Automotive Appraisal Association (JAAA), a third-party organization, appraises used cars.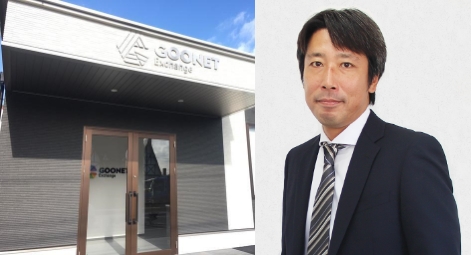 GOONET EXCHANGE CO., LTD.
is a subsidiary company of
PROTO Corporation
which operates automobile information service called "Goo" in Japan.
As PROTO Group, which consists of more than 10 companies in provide a variety of automobile related services, many of which are leading shares in their specialized fields.
Our aim is to be helpful to people by delivering used cars of superior quality to the world as well as by providing useful automobile related information which PROTO Group has cultivated over the years.
Who Will Respond?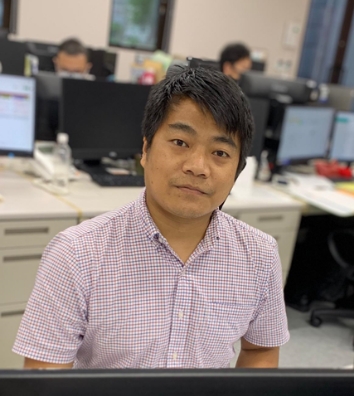 Khemraj Garbuja
Speed, kind,
and accurate information.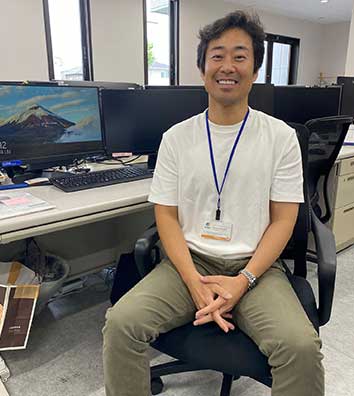 Shinya Kaneko
Always positive
for our customers.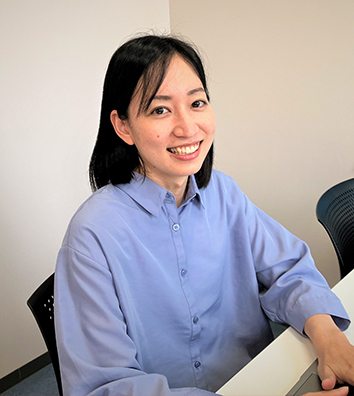 Yukari Sako
Meet your demands
with all my heart.
Gehan Peries
Motivation is the passion
to achieve