Find Used Cars


Goo-net Exchange is an online solution for buying Japanese Used Cars from Japan, specialized in Japanese imports. Browse the widest choice of Japanese Used Vehicles. Search for used toyota , used honda , used nissan to find your perfect match of Japan used cars.
New Arrivals
>> More

New Arrivals for Certified Vehicles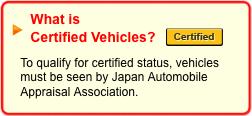 >> More

Goo-net Exchange Information
Thank you for visiting Goo-net Exchange.


3/14 - We appreciate your caring and thoughtful phone calls and emails. As for KINGS AUTO CO., LTD., we are operating as usual.

1/20 - Now You can run a keyword search by model number!

7/14 - We release the "Goo-netExchange iPhone application".You can download your Apple iPhone completely for free,and you will get used car information more than 300,000 of them in Japan anytime and anywhere.